Fire Rips Through Building Under Construction in Douglas
by Quiet Corner Alerts on 01-14-2023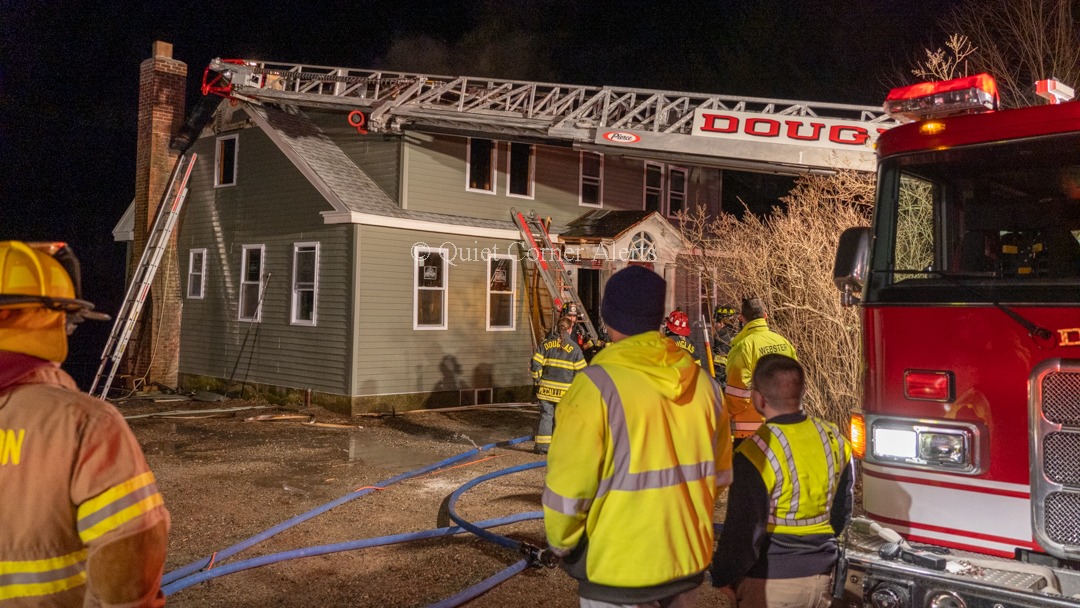 Douglas, Mass. – At approximately 8:30 pm on Saturday, January 14th, 2023, the Douglas Fire Department was dispatched to the area of 65 Walnut St for reports of flames coming from the roof of a vacant residence.
A Douglas Police Officer was the first to arrive on scene, at 55 Walnut St, and confirmed there were flames showing from the roof as reported and the second floor appeared to be "well involved". This prompted a second alarm upgrade, with tankers, prior to the fire department's arrival.
According to Deputy Chief John Furno, his initial crew, who arrived minutes after the police department, consisted of only 3 firefighters leading to his decision to limit operations to an exterior attack until additional crews made it on scene. Firefighters were able to vent a window on the B (left) side of the building and knock down a large amount of fire from the exterior. As a second engine arrived, crews began an interior attack on the second floor and the subsequent arrival of the first due ladder allowed firefighters to vent the roof. This aggressive attack enabled firefighters to make a quick stop on the fire.
Deputy Chief Furno went on to tell Quiet Corner Alerts that he immediately knew the area was outside of the hydrant district, at the time of dispatch, factoring into his decision to strike a second alarm with tankers. A senior firefighter, acting as water supply officer, was able to ensure units on the fireground never ran out of water.
Deputy Chief Furno also praised the Douglas Dispatchers for ensuring he received all the help he needed on the scene from numerous mutual aid departments.
The homeowner made it to the scene quickly after being informed of the incident and was able to confirm that there were no occupants in the residence. Crews did conduct a quick search of the interior of the residence but did not find anybody inside.
No injuries occurred as a result of the fire.
While units were initially dispatched to the area of 65 Walnut St, the fire building was 55 Walnut St.
At this time the cause of the fire is undetermined. The District 7 Fire Investigation Unit and the Massachusetts State Fire Marshal's Office are investigating the fire.
Agencies who responded, or were dispatched, included the Douglas Fire Department, Uxbridge Fire Department, Northbridge Fire Department, Webster Fire Department, Dudley Fire Department, Oxford Fire Department, Pascoag Fire Department, Sutton Fire Department, Webster EMS, Oxford EMS, Douglas PD, District 7 Fire Investigation Unit, and the Massachusetts State Fire Marshal's Office.